Dear Hillary Clinton and Barack Obama,

I like you guys -- really I do. But enough is enough. I'm sick of you both and we've got a long hot summer ahead of us.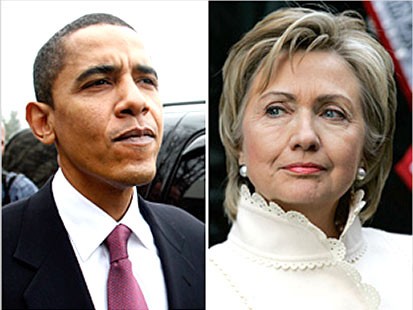 Look at you. You guys look terrible. It would take a bucket of Restaylne to fill in all those lines you're getting.

Pleeeeeeease. I beg you. Go home. Put your feet up. Take up Sudoku, or knitting. Watch wrestling (just don't use slogans from it). See what kind of lamp you can make out of your Grammys. You can even blog, if you pinky PROMISE it won't be about each other.

Frankly, I don't care which one of you gets it at this point. If I were a superdelegate, I'd pledge my vote to whichever one of you shut up and left me alone first.

And if you guys would just cool it, Wolf Blitzer would have to find something else to talk about. A frat boy looking for a new way to get wasted could do worse than to chug one every time Wolf reminds us tonight that CNN has "the best political team on television."



Don't that innocent look fool you. He's the most annoying man on television. Maybe I'll play the drinking game.

Tonight in Pennsylvania, one of you will win, and one of you will lose, and the loser will say he/she didn't really lose because she/he (fill in the blank), and the winner will say that the results show that that he/she is more likely to fix the economy/get us out of Iraq/relate to the lady who works at the Dairy Queen/bowl better in the next state, and then Wolf and Company will talk about it for, oh, I don't know, about the next 36 hours without a bathroom break, for God's sake, and the two of you will still essentially be tied.

I miss the smoke-filled room.